JR: In October 2005 a phenomenom was born! Now 1 year on we celebrate its birthday! Hello and Welcome to the Showdown Center for WWEML's 1 Year Anniversary special.. SHOWDOWN 18!!!


JR: Im Jim Ross alongside Bobby the Brain Heenan and tonight history will be made as WWEML crosses over its first milestone!!


Heenan: Theres Dave Pook of the championship commitee! You have to know he is ready to party tonight as WWEML becomes immortal!


Pook: Ladies and Gentleman welcome to the biggest party ever! WWEML's 1 year anniversary! At this time Id like to thank all the viewers who have tuned into WWEML for the past 12 months, tonight we promise to make all that dedication worth while!


Pook: Now id like to present some awards.. First staff member of the year award.. Ladies and Gentleman you voted the winner... EDDIE GUERRERO!!


JR: Theres Eddie, who tonight faces Shawn Michaels in a Ladders are legal match! The Staff member of the year!


Heenan: Its a great honour, I was in for the running, but.. Meh, Screw you humanoids!


JR: Dont be Bitter Brain..


Pook: Tonight Mr Guerrero has a Ladders are Legal match against Shawn Michaels! Be sure to stayed tuned!!

JR: I just said that, hey, thats my entry into the 2007 Staff member of the year!


Pook: Now, Picking up the award for the match of the year, Which was Rob Van Dam VS Kurt Angle VS Chris Benoit VS Shelton Benjamin.. Please welcome, Rob! Van! Dam!!!


JR: RVD winning his second consequtive MOTY award, the Poll 6 months ago for Match of the half year he also was apart of when he faced off with Kurt Angle in that thriller from Full Force.


Heenan: That was a fantastic match, I have to admit.. As was the Fatal 4 Way..


JR: Its almost like RVD is made to have good matches, do you remember him being in a bad one?


Pook: You can see a rematch of that Fantastic Fatal 4 way, Later on tonight here on Showdown TV!!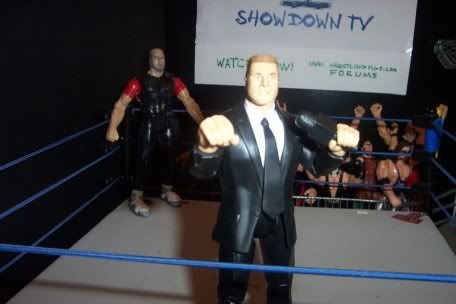 Pook: The Wrestler of the year will be presented later in the night, just before the main event. Now, The voting for Fued of the year was torn. There were 2 winning fueds. One was the series of hardcore matches that Raven and Tazz put on, Another was the Personal bloodfest that is still charging on between Brock Lesnar and new WWEML Champion Randy Orton..


Pook: At this time id like to introduce 1 participant of these 2 fueds.. Raven!


JR: The former 9 month WWEML Hardcore Champion!


Heenan: He put himself on the map for being a 9 month hardcore champion by defeating Tazz on many occasion throughout the early part of 2006.


JR: Tazz of course no longer with the company, but im sure he will be rewarded..

Next Segment: