JR: Ladies and Gentleman welcome to Showdown TV 15 and our 15th show should be a time for celebration, and it is, but not for WWEML but for Ring Of Poison after ROP owner Mikey Reynolds announced it will no longer release shows..
Heenan: Yes it was a shock to Wrestling worldwide, ROP fans crammed into the Showdown center to say their very own goodbyes to a federation that changed our industry...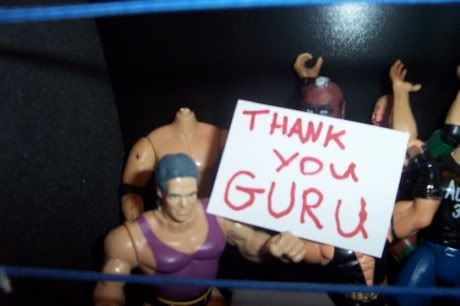 JR: Guru, Mikeys nickname, being chanted around the arena in this resounding "Thank you Guru" chant.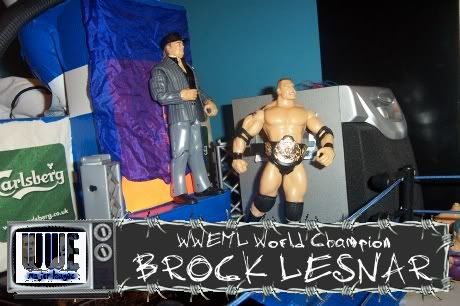 Heenan: Well, Here comes our World Champion!
JR: He looks very angry.. He is shouting for a Microphone..
Lesnar: RING OF POISON DIED FOR A REASON!! IT DIED BECAUSE THE BIG TIME FEDS LIKE WWEML, AND MAINLY THEIR CHAMPION ME BROCK LESNAR KILLED IT!! WE ARE SUPERIOR!!!
Lesnar: As of right now Im officially adding ROP to my victims list!! Ring of Poison joins names such as Triple H... and of course... RANDY ORTON!!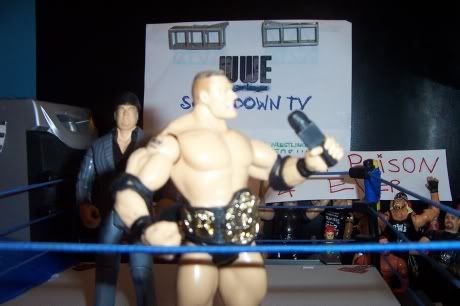 Lesnar: Thats right! Randy Orton! Your last ever world champion ROP, I decimated him!!
Lesnar: And now I set my sights on you, Hulk Hogan!.. You old bastard! You passed your time years ago and lets face it if it wasnt for Kane distracting the Undertaker you wouldnt be Number 1 contender..
Heenan: Here comes Hogan!!
Hogan: well you know something Brock Lesnar, You like to dig into me cheaply winning the title shot, The way I see it, If it wasnt for you sneak attacking Randy Orton You wouldnt be the World Champion!!
Lesnar: THATS NOT TRUE!!!

Heyman: Chill Brock... Calm down...

Lesnar: IM GOING TO PROVE IT, TONIGHT I CHALLENGE ANYBODY TO A MATCH!!! ANYBODY!!! NO.. I CHALLENGE ANY FORMER WORLD CHAMPION TO A MATCH!!! RIGHT HERE TONIGHT!!!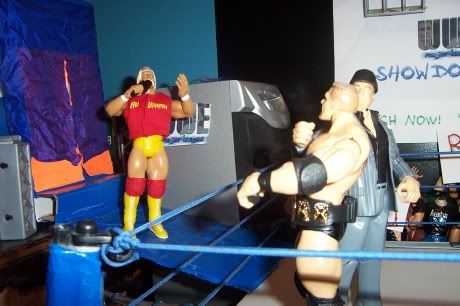 Hogan: Thats good, Because I have the perfect opponent for you, He is in the back right now.. What you gonna do Brock? What are you gonna do when BAM BAM BIGELOW runs wild on you!!!
JR: OH MY GOD!!! BAM BAM BIGELOW IS HERE TONIGHT!?

Heenan: Well I dont know about you, but I think Brock has his work cut out for him with the former ECW world Champion!!

Next Segment:

In a Ring of Poison tribute match, Terry Funk takes on Raven! Also, A huge 6 man tag match! All of which building up towards Night of Legends!